The Literal Suicide Of The West - Canada To Help Mentally Ill Kill Themselves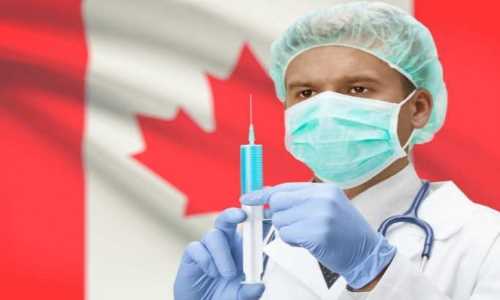 By Jarrett Stepman/Daily Signal
July 20, 2023
Share this article:
---
The literal suicide of the West continues apace in Canada.
Starting in March 2024, people with mental illness will be able to avail themselves of medically assisted suicide.
That represents the latest expansion in the Medical Assistance in Dying, or "MAID," law that launched in 2016. Some Canadians are getting ready to take advantage of the forthcoming law.
On Saturday, Reuters reported how a 47-year-old woman with anorexia will be allowed to kill herself with state assistance next year when the law changes.
"Every day is hell," Lisa Pauli said. "I'm so tired. I'm done. I've tried everything. I feel like I've lived my life."
It's a tragic story, but suicide isn't the answer. And government authorities certainly shouldn't be normalizing and encouraging suicide as the answer to problems.
Canada's embrace of assisted suicide has put the country in a death spiral, literally.
In 2016, Canada launched its Medical Assistance in Dying program, which was restricted to people dying of a terminal illness. Since that time, it's expanded enormously both in raw numbers and scope. It has become the sixth-leading cause of death in Canada. In 2021, it represented 3.3% of all deaths in the country.
As an aside, the news service Agence France-Presse "fact-checked" the reality that assisted suicide has become the sixth-leading cause of death and called that statistic misleading.
But the report merely concluded that the "national statistics agency does not consider [state assisted suicide] an official cause of death, and most cases involve people with serious underlying health conditions."
Oh, so a government agency simply doesn't categorize the suicide as the "official" cause of death, so it suppresses the numbers.
A recent estimate bumped the total number of suicides up from 10,064 in 2021 to an estimated 13,500 in 2022.
Some of these people appear to have been killed by authorities operating outside the law.
Reuters reported that between 2020 and 2021, "Quebec found 15 assisted deaths, 0.4% of the total, did not follow the rules. ... In six of those cases, the person did not have a serious and incurable condition, according to a provincial commission."
Of course, having the MAID law to begin with is what opened the opportunity for those illegal assisted suicides to take place. It doesn't help that some doctors are bringing up the idea of suicide before patients do.
I can only imagine how this conversation will go in the future:
Hey, you say you've got a bum shoulder, and it's been bothering you for years? As your medical professional, I'd like to recommend this new advanced treatment. It's called 'death,' and is vastly cheaper than surgery and other drug alternatives.
Is this sort of attitude that far off?
A hyper-individualistic ethos, combined with a system of partially or almost entirely socialized medicine in an aging society, means that there are huge incentives to nudge patients toward choosing suicide.
Canadian authorities advocating for assisted-suicide laws insist that they've taken "prudent steps" to get to this point.
"We have gotten where we are through a number of very prudent steps," Canadian Justice Minister and Attorney General David Lametti said in an interview, according to Reuters. "It's been a slow and careful evolution. And I'm proud of that."
How comforting. The road to hell is apparently being traversed with many prudent steps in Canada.
But that pace is quickening.
Jack Elbaum noted in the Washington Examiner that "polls show 50% of Canadians believe [MAID] should be expanded to those with disabilities, and 41% of young people want MAID to be made available to anyone in poverty."
"Last year, the Quebec College of Physicians even said it believes babies up to the age of 1 should be killed if they have 'severe malformations' and 'grave and severe syndromes,'" Elbaum wrote.
So, Canada will likely be exterminating more of the poor and mentally ill.
The bottom line is that the floodgate has been opened, and it's unlikely to abate unless the program is shut down. Canada's example provides a dire warning to the U.S., where some states have adopted assisted-suicide laws.
The West was once known as a culture that embraced the value of life, but no longer. We are establishing a new norm. There are even assisted-suicide promotional books for kids in Canada just to make sure everyone knows this is all good and normal.
Every year a new frontier is opened in the march to ensure that everyone has access to state-sponsored death in the name of "autonomy." How long until suicide on demand for any reason is not just seen as acceptable in Canada, but a positive good?
This is the result of metastasized social liberalism.
An anonymous account on Twitter had it right: There's something "demonically saccharine" about assisted-suicide laws, where we can clinically dispose of human life.
We now have policies that increasingly resemble something you'd expect in the Third Reich. But instead of being delivered by a storm trooper sporting swastikas and skull-and-crossbones badges, they will come from a smiling health professional in a white medical lab coat.
---