Israeli Knesset Caucus Celebrates 'Night To Honor Christian Allies'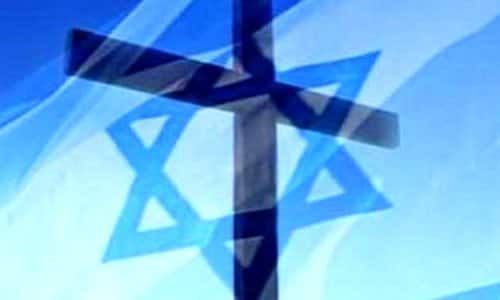 By Alex Traiman/JNS.org
February 21, 2018
Share this article:
---
Members of the Knesset celebrated the role of "faith-based diplomacy" in President Trump's recent announcement to officially recognize Jerusalem as the capital of Israel at the 12th annual "Night to Honor Christian Allies," held Thursday at the Waldorf Astoria Jerusalem.
The event, organized by the Knesset Christian Allies Caucus and the World Jewish Congress, and co-sponsored by Israel365, paid tribute to Evangelical Christians who have made extraordinary contributions to the state of Israel.
"Tonight is a chance to say 'thank you' for all the work Christians are doing," said Josh Reinstein, director of the Knesset Christian Allies Caucus and president of the Israel Allies Foundation. "I think this year especially, because of the announcement of President Trump to move the U.S. embassy to Jerusalem, we really see how faith-based diplomacy works."
A lifetime achievement award was presented South Carolina State Rep. Alan Clemmons, a pioneer in anti-BDS legislation now used as a model in 25 states across America. Award-winning journalist Christine Darg, founder of Exploits Ministry, was presented the "Night to Honor our Christian Allies" tourism award.
Tying in the theme of Christian support for Israel and Trump's decision to officially recognize Jerusalem as the capital of Israel, U.S. Ambassador to Israel David Friedman told the audience that "it takes people like you to really foster the relationship we have."
Friedman praised the president, stating, "the decision on Jerusalem, the decision on expanding and increasing the ties with the United States, the decision to increase the funding of Israel's military, the decision to support Israel in its ability to defend itself in the adventures and incursions of Iran and Hezbollah, all of this comes from the top. It all comes from President Trump, and I tell you, we all owe him a tremendous debt of gratitude."
Still, Friedman noted that "the president himself takes his orders from the people."
"To have a group like this, many of whom non-Jews who support Israel the way you do; who see that America will be blessed when Israel is blessed; who understand that when we as a nation support the state of Israel; and we share their values and we support them, we are not just helping Israel, we are helping America. It is a quintessential value of being an American to support the state of Israel, and no one should ever apologize for being a supporter," he said.
Clemmons discussed how efforts he took to advance pro-Israel legislation in his home state of South Carolina became a model used around the country, mobilizing the support of thousands of Christians nationwide.
"I've passed anti-BDS legislation that pushes back against [this] hateful movement. That legislation has now passed in half of the states in the U.S., all of them with the help of Christian supporters of Israel. There are so many ways Christians can get involved, and that is just one. And as we get involved and as great things happen in Israel, our relationships with the Jewish people are only enhanced."
Clemmons noted that "the next step is the actual relocation for the embassy from Tel Aviv to Jerusalem, which the president has said will happen before the end of next year. We're looking at that very significant symbol as America's love for Israel, and we're looking forward to it."
The event was attended by nine Knesset members, several of whom addressed the crowd, including caucus's chairman, Robert Ilatov (Yisrael Beytenu), Rabbi Yehuda Glick (Likud), Dr. Anat Berko (Likud) and Nachman Shai (Zionist Union). Shai noted that Jerusalem was a uniting force among politicians, saying that "recognizing Jerusalem as the capital of Israel is something that every politician in Israel can agree to, whether from the right or from the left."
Reinstein, the event's master of ceremonies, told JNS that "there is a tidal wave of millions of Christians coming and supporting Israel."
"I think that Jews need to understand that we are not alone anymore. We have faithful friends. All along, the Jewish populations around the world have stood with Israel. Now we have Christians to help back us up. I think [Israeli] President Reuven Rivlin said it best. He said, 'There are 13 million Jews and 1 billion Christians, but together, we are 1 billion and 13 million.' "
Originally published at
JNS.org
- reposted with permission.
---