Teachers Attend 'LGGBDTTTIQQAAP' Sensitivity Training - Did We Miss Anyone?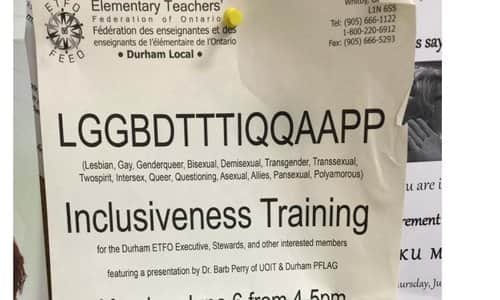 By PNW Staff
December 06, 2017
Share this article:
---
As the gender neutral movement continues to pick up steam and radicals move for ever greater "inclusiveness", terms such as LGBT give way to LGBTQ, which quickly becomes LGBTQI until soon we are presented with labels like that found on a flier for teacher training in Ontario Canada that offered LGGBDTTTIQQAAP inclusiveness training.
In our rush towards political correct absurdity, we have reached levels that not even satire dared to go a mere decade ago. So how did this happen?
First some present day context: the flier was posted to advertise inclusiveness training for the Elementary Teachers' Federation of Ontario to take place on June 6th. It's stated goal was to "become more familiar with current language, sensitive to current issues and to share best practices in supporting our LGGBDTTTIQQAAPP peers and students."
For the curious, the flier also contains a short glossary of what the alphabet soup of an acronym means: "lesbian, gay, genderqueer, bisexual, demisexual, transgender, transsexual, twospirit, intersex, queer, questioning, asexual, allies, pansexual, polyamorous." It must be assumed that the training is meant for those cis-gendered types among us (i.e. those who used to be called normal, straight heterosexuals).
The flier went on to claim that "as much as half of the public secretly identifies as LGBT to some extent". When contacted about the poster, a representative of the Durham chapter of the ETFO told reporters, that the poster was indeed genuine.
The use of the absurdly long acronym was meant to draw in teachers by "acknowledging that keeping track of diverse LGBTQ identities can be overwhelming, especially as our students are continuously identifying new ones." The official acronym still in use by the ETFO however is LGBTQ, perhaps to save on ink in printed publications.
The acronym LGB was adopted in the mid-1980s to replace gay and in the early 1990s, activists began using LGBT to expand the term to the transgendered and transsexual. In 1996, the Q was added to the mix as a way of representing those who are "queer or questioning" and then the I for intersex quickly followed.
This stayed relatively unknown in popular culture until much more recently as controversy over gay marriage, bathroom rights, adoption and other issues has entered the mainstream. In the scramble to assign labels and rights to ever more inventive gender categories, the term has continued to expand to often satirical proportions.
Facebook famously expanded their gender options to 50 and then in 2016, evidentially burdened by the guilt that they were still not inclusive enough for everyone, added an additional 21 gender categories to bring the total to 71. For those still curious about all these extra genders you never knew existed, here is a complete list (though its impossible to garauntee that it won't grow in the future):
Facebook's 71 Gender Options.
Under the guise of inclusiveness and in the spirit of embracing such identities as lesbian, gay, transexual, twospirit, pansexual and pollyamorous, gender radicals have succeeded in undermining the concept of gender itself. As society begins to actually accept such a range of "gender identities", the notion of gender roles at all breaks down.
A similar trend is occurring now with race and those who claim to be not bi-racial (the product of parents of more than race) but transracial. The term transracial takes as an assumption that race is a social construct and as such, one should be able to decide to move from one race to another throughout his or her life time. Born White but wish you were Black? No problem, just be transracial.
The well-known case of Rachel Dolezal is a perfect example of this trend. Ms. Dolezal made headlines when it was discovered that a girl born to White parents and raised in White American culture had assumed the identity of Black woman and was running an NAACP chapter. Dolezal claimed that she was a transracial woman, and she is now just one of many.
In the case of Brown University students, the advantages to becoming transracial may be to take advantage of an already-racist admissions system. Brown University is now allowing students to self-identity as the race of their choice and this will impact their inclusion in campus events but it is still unclear what impact this decision will have on the admissions process.
Asian Americans are now notoriously discriminated against in college admissions due to test scores and high school academic results that are too far above those of Whites, Blacks and Hispanics. In most universities, African American students with substantially weaker test scores and applications over all are admitted at a much higher rate while Asian Americans are rejected.
Now the concept of transracialism and self-identification of gender will allow White and Asian student to claim they are a member of an under-represented racial category in order to gain admissions. Thus, we seem to have come full circle in identity politics insanity.
The trend towards opening all labels, whether gendered, religious or racial, until they become arbitrary is a destructive one. It renders the concepts they represent meaningless and Western civilization is threatened with collapse under the effects of this undermining influence that eats away at the foundations of family, gender and national identity.
---