Survey Finds Waning Support For Israel Among Millennial Evangelical Christians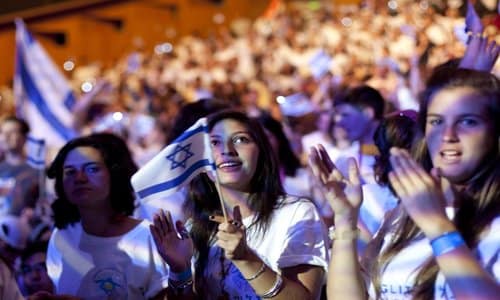 By JNS.org/PNW Staff
December 06, 2017
Share this article:
---
A new survey has found that millennial evangelical Christians support Israel less than older generations, a possible troubling new trend for one of Israel's strongest and most vocal support groups in the US.
According to the survey, titled "Evangelical Attitudes Toward Israel and the Peace Process," despite the fact that nearly 76 percent of evangelicals say Christians should support Israel, 41 percent of younger evangelicals have no strong views about Israel.
Additionally, the survey found that 77 percent of evangelicals 65 and older say they support "the existence, security and prosperity of Israel," while only 58 percent of younger evangelicals (18-34) hold similar views and say they are less sure Israel's rebirth in 1948 was a positive development for Palestinians.
"For the most part, younger evangelicals are indifferent about Israel," said Scott McConnell, executive director of LifeWay Research, which conducted the survey in conjunction with Chosen People Ministries and author Joel Rosenberg.
The survey asked 2,002 American evangelical Christians about their beliefs concerning a wide range of issues involving Israel, from its place in the Bible to its treatment of Palestinians.
Sympathy for the Palestinians was found to be higher among younger evangelicals. While 59 percent of evangelicals say Christians should do more to "love and care" for the Palestinians, that number rises to 66 percent for evangelicals ages 18-34.
"They believe God wants Israel to be there," McConnell said, "but they also think God cares how the nation of Israel acts."
There is no better way for Millennials in the West to better understand the dynamics of the Middle East than to visit the land of Israel themselves however cost can often be a prohibitive factor.
To help Millennials overcome this challenge a Christian organization called Christian Journey is opening doors to students who might not ordinarly be able to visit.
Covenant Journey is a life-changing immersive experience in Israel. The tour is designed to strengthen college students' Christian faith and equip them to be goodwill ambassadors for Israel and the Jewish people.
The Covenant Journey tour is only for college-age students who (1) are Christians, (2) have leadership potential, and (3) have some level of support for or interest in Israel. College students selected for the tour pay only a $500 registration fee. Everything else is covered by Covenant Journey, including flights from the United States to Tel Aviv, hotel, three meals a day, luxury bus, experienced tour guide, speakers, and all entrance fees.
A Covenant Journey tour of Israel is unlike any other, as it is designed specifically to motivate its participants to discover and affirm their Christian faith and identity through an experiential journey and educational experience of biblical, historic, and modern Israel, providing participants with the ability to advocate for Israel upon their return. The tour will consist of groups of approximately 40-50 students from various colleges and universities.
You can learn more about Covenant Journey
here
.
---