Dying Middle Class: Americans That Can't Afford Their Own Home Doubles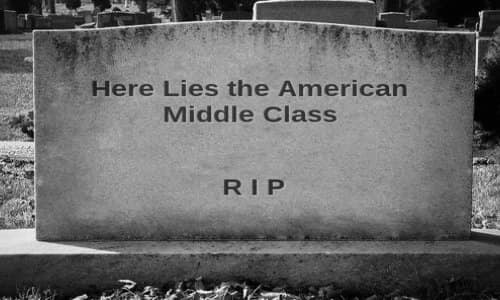 By Michael Snyder/End Of The American Dream
July 17, 2017
Share this article:
---
Have you lost your spot in the middle class yet? For years I have been documenting all of the numbers that show that the middle class in America has been steadily shrinking, and we just got another one.
According to a report that was produced by researchers at Harvard University, the number of Americans that spend more than 30 percent of their incomes on housing has more than doubled.
In 2001, nearly 16 million Americans couldn't afford the homes that they were currently living in, but by 2015 that figure had jumped to 38 million.
When I write about "economic collapse", I am writing about a process that has been unfolding for decades in this country. Back in the early 1970s, well over 60 percent of all Americans were considered to be "middle class", but now that number has fallen below 50 percent.
Never before in our history has the middle class been a minority of the population, but that is where we are at now, and the middle class continues to get even smaller with each passing day.
So these new numbers saddened me, but they didn't exactly surprise me. The following comes from NBC News...
Over 38 million American households can't afford their housing, an increase of 146 percent in the past 16 years, according to a recent Harvard housing report.
Under federal guidelines, households that spend more than 30 percent of their income on housing costs are considered "cost burdened" and will have difficulty affording basic necessities like food, clothing, transportation and medical care.
But the number of Americans struggling with their housing costs has risen from almost 16 million in 2001 to 38 million in 2015, according to the Census data crunched in the report. That's more than double.
Sometimes people try to convince me that the economy is doing "well", but when I ask them how they are doing personally the news is almost always dreary. I know so many people that are working for close to minimum wage that used to be solidly in the middle class.
One of the biggest reasons why the middle class is shrinking is because paychecks are staying about the same while the cost of living continues to rise steadily. Of course one of the biggest factors in the rise of the cost of living is health insurance.
There are many people out there that have seen their health insurance premiums double since Obamacare went into effect. And one health insurance company actually tried to do this to me and my family too, and so at that time I immediately switched carriers.
But even though virtually every single Republican in Congress campaigned on repealing Obamacare, it doesn't look like it is going to happen.
So many families are living on the edge right now. Various surveys have discovered that somewhere around two-thirds of the entire nation is living paycheck to paycheck at least part of the time, and one study found that 69 percent of all Americans do not have an adequate emergency fund.
But when you are living on the edge, there is always a danger that you could go over.
Every month, more Americans fall out of the middle class and into poverty. Even during this so-called "economic recovery", we are seeing alarming spikes in poverty all over the nation. For example, the number of homeless people living on the street in New York City has increased by 39 percent over the past year...
Street homelessness in New York increased by 39 percent in 2017, according to the latest annual survey by the Department of Homeless Services.
There were 3,892 homeless and unsheltered people on the night of February 6, 2017, up from 2,794 people at the same time last year, said the report, which is conducted on one night of the year. This is the highest increase since 2005, when Michael Bloomberg was mayor.
And bankruptcies continue to rise as well. Consumer bankruptcies were up once again last month, and commercial bankruptcies continue their very disturbing climb...
Commercial Chapter 11 bankruptcies - an effort to restructure the business, rather than liquidating it - jumped 16% year-over-year in June to 581 filings across the US.
Total commercial bankruptcies of all types, by large corporations to tiny sole proprietorships, rose 2% year-over-year to 3,385 filings, according to the American Bankruptcy Institute. This was up 39% from June 2015 and up 18% from June 2014.
Since the end of the last recession, the middle class has continued to get smaller and smaller in this country, and now it appears that another economic downturn is upon us.
Are we just going to stand aside and do nothing as the middle class in America dies?
The Democrats don't seem to care.
The Republicans don't seem to care.
If we continue to do the same things that we have been doing, we are going to continue to get the same results.
In other words, unless we start doing things differently the middle class in America is going to continue to be systematically eviscerated.
---