Arab Christians Face Challenges For Supporting Israel, Serving In IDF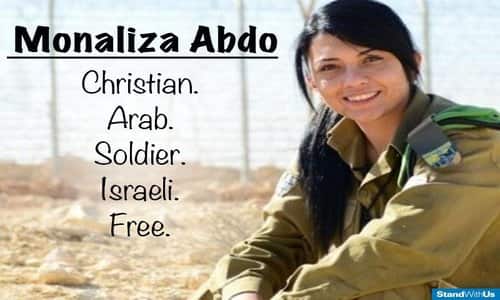 By PNW Staff
March 17, 2017
Share this article:
---
Israel is well known for its compulsory service in the Israeli Defense Forces for both men and women.
Arab Christians living in Israel, who number around 166,000, are generally exempt from having to serve. However a growing number are volunteering to serve in the IDF as they see the value of integration into Israeli society.
As a result of their service however, they increasingly find themselves the target of discrimination, attacks and even death threats from their Arab brethren.
On the one side, volunteering for the IDF is a vote for a common Israeli identity but enemies of the state see their actions as a betrayal of Arab culture.
The IDF has taken the threats seriously enough to allow Arab Christian Israelis to change into civilian clothes before leaving base, unlike other soldiers who must keep them on. But what caused this shift in the first place?
For decades, the number of military volunteers from the exempted Christian Arab population hovered around 30.
This changed in 2012 when a group called the Christian Community Mobilization Forum was created and began to promote military service among the Christian Arab community.
With this cultural vote of confidence, the following year saw 130 Arab Christians joining up and nearly as many (110 recruits) enlisting in both 2014 and 2015.
Though official numbers for 2016 are still not published, by all accounts the trend looks, once again, to have increased.
For its part, the government has criminalized dissuading Arab Christians from volunteering and since 2014 has continued to send voluntary enlistment offers in the mail to Arab Christian men when they turn 16 ½ in a further effort to encourage the trend.
In 2016, 40 of the Arab Christians who had volunteered for the service were awarded with full tuition scholarships for university study. Yet the path has not been easy for some of these recruits.
As a prominent religious figure and a founding member of the Christian Community Mobilization Forum, Father Gabriel Naddaf has been the frequent target of attacks by radical Islamist and Palestinian politicians.
There have been calls to excommunicate the priest, and his family members have been verbally assailed and his son physically assaulted.
Numerous acts that range from vandalizing his Facebook page with a "wanted" sign to leaving a bloody rag at his family's front door have caused him and his family to live in so much fear that they have been given police protection when outside their homes.
In the face of the mounting threats, public insults and calls for his resignation, Naddaf has remained firm in his commitment.
Amir Shalayan is an Arab Christian who volunteered to serve with the IDF. Now on reserve duty after three years in the Navy, Shalayan is the ideal candidate for Arab Christian IDF service.
For Mr. Shalayan, the issue is clear and sets him at odds with some parts of Arab society.
He believes that Christians should integrate themselves into Israeli society and give back to the country that protects them, considering that an Islamic country, living under sharia law, would show no such kindness.
His critics claim that IDF service by Arab Christians only serves to deny and insult their Arab identity and sets them against their "Muslim brothers."
Bishara Shalayan, Amir's father and 56 years old, supports his son's decision. Also politically active in the movement, the elder Shalayan was quoted as saying, "All the Arabs say, you are going to kill your own people."
Pausing thoughtfully, he added, "We dont want to kill anybody. We want to protect ourselves and serve the country we believe in. But if my brother is a terrorist, I will kill him."
Father Naddaf points out that "as Christians in Israel survey the situation of our brethren in the wider Middle East, we are appalled by the persecution that so many have experienced in Egypt, Syria and Iraq, among others.
Truly, it has only been in Israel where Christians can fully practice our faith and can be productive members of society.
We are not interested in misguided policies that would only bring harm and dislocation to us. Instead, we see and appreciate the opportunities to live full Christian lives in the Jewish State.
It is important that Christians around the world understand that Jewish Israel has been a responsible steward for its Christians. We should be supported, and not demonized for our efforts to more fully join this society"
---