A Light In The Darkness Of Education - A Christian School That Continues To Grow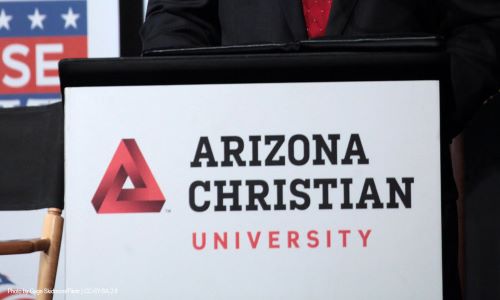 By SA McCarthy/The Washington Stand
August 08, 2023
Share this article:
---
A major conservative Christian university is preparing to celebrate its eighth consecutive year of growth. Located in Glendale, Arizona Christian University (ACU) is smashing its own enrollment records, for the eighth time in a row, skyrocketing from about 400 students in 2010 to 1,200 this fall.
That steady growth has taken place under the leadership of Len Munsil, a constitutional lawyer who has served as ACU's president since 2010. Munsil credits the university's success to its devoutly Christian principles, telling The Washington Stand, "The mission of the university is to transform culture with truth. And really our mission is to educate and equip followers of Christ to be leaders of influence and excellence."
In order to achieve these goals, ACU introduced new academic programs, including film studies, communications and journalism, and popular political science and pre-law programs which have already yielded a Harvard Law School graduate who headed the school's chapter of the Federalist Society, as well as students clerking for federal appeals court judges.
Such new and influential academic programs stand alongside traditional degrees in theology, literature, education, and music, as well as degrees taught from a uniquely Christian perspective, such as behavioral health and marriage and family therapy.
In fact, ACU's academics are steeped in Christian principles. Munsil explained, "Our view is kind of the 'iron sharpens iron approach,' which is that we want young people that are serious about their faith in Christ, and we want to help them grow dramatically over four years and then send them out to where they can become leaders."
At ACU, students are expected to attend chapel a certain number of times per semester. Chapel at ACU features student-lead worship and spiritual formation led pastors, missionaries, faculty members, and Christian leaders. ACU also requires service projects and evangelization of its students, preaching the gospel by both word and deed.
This strong focus on living the spiritual life is supported academically by a core curriculum designed to deepen students' knowledge of Western civilization's Christian foundation. Munsil explained the program to TWS, saying, "Every student at ACU, whether they're studying business or pre-med or pre-law, they get 18 hours of biblical studies and then they get a core curriculum.
That's a general ed curriculum, that's classics, humanities-based, the great ideas of Western civilization." The dual focus on scripture alongside the classics is what makes ACU's core curriculum unique, generating what Munsil described as a "biblically-integrated study of the classics."
Throughout the core curriculum, students will learn liberal arts mathematics, logical problem-solving, and study great works by the likes of Homer, Plato, America's founding fathers, and even Karl Marx. The program is based on the classical education model and is designed to equip students to seek, recognize, and pursue truth.
ACU's website explains, "The CORE helps you discern God's desire for your life as you study the human narrative and identify the true nature of the world around you. The world tells us there is no objective truth. In the CORE, you learn to value and apply God's Truth."
The ACU culture is steeped in this Christian truth, promoting a biblical understanding of human sexuality and marriage as between one man and one woman, and laying emphasis on the sanctity of life. Such staunch Christian principles have, of course, not made ACU or its graduates popular with leftist-dominated institutions. Earlier this year, the Washington Elementary School District in Arizona terminated its longstanding partnership with ACU, banning ACU education students from working in the school district's classrooms.
ACU fought back, filing a lawsuit arguing the school board terminated its partnership with ACU "strictly because of their religious status and beliefs -- namely their beliefs on biblical marriage and sexuality -- despite having zero evidence of any incident by an Arizona Christian student that violated any School District policy." The school district settled with ACU in May, with board members voting 4-1 to continue and even extend the partnership with ACU, and agreeing to pay ACU's legal fees.
With such academic, spiritual, and cultural successes under its belt, it's perhaps little wonder that ACU is continuing to grow. But Munsil told TWS he wants to not only continue but boost that growth. He said, "We don't want to be a secret. We especially know there are a lot of people that are looking for a school like ours that may not even know that we're here, all the things that have happened to help the university grow."
Munsil noted that while college enrollment nationally has declined 12%, enrollment at ACU is up almost 200% in the same timeframe, adding, "We're seeing general enrollment growth as people become more and more aware of the excellence of what we're doing and really the spiritual commitment of it."
Munsil expressed that he hopes and plans to increase enrollment to 5,000 students within the coming years. Celebrating ACU's eighth consecutive year of record enrollment means the school is well on its way to achieving that goal.
---