Is Gender Mutilation The New Face Of Brands?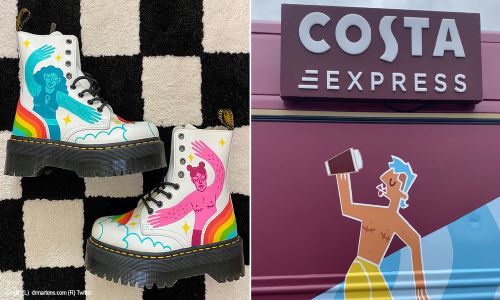 By Sarah Holliday/Washington Stand
August 04, 2023
Share this article:
---
Despite Bud Light's financial collapse, some CEOs don't seem to be learning from the beer brand's fatal partnership with Dylan Mulvaney. That, experts say, or they're choosing to be ignorant.
While consumer outrage continues to crush businesses that align with the trans ideology, Dr. Marten's and Costa Coffee are jumping into the fray, openly promoting gender mutilation by picturing bare-chested women with top surgery scars on their products. Lauren Fox tweeted directly to Costa Coffee and said, "You are promoting the mutilation of healthy young girls. I hope you are boycotted out of existence."
The celebration of females who've undergone double mastectomies in the name of gender affirmation is spreading -- appearing now on Dr. Marten's new DIY shoes, Costa Coffee's advertising, and even the video game, Sims 4, where the player can create an avatar with breast removal scars. These brands, just like Bud Light, faced intense criticism quickly.
Jay Richards from The Heritage Foundation commented, "Did Dr. Martens poll test this allusion to 'top surgery' with its customer base? Or is it making the same foolish mistake made by Bud Light?" According to a poll conducted by the Washington Post/Kaiser Family Foundation, an overwhelming majority of Americans (68%) oppose minors having access to gender transition procedures. And while Bud Light may not have a market for minors, video games, shoe brands, and coffee shops do.
Strive Management's head of Corporate Governance, Justin Danhof, told The Washington Stand, "Despite its name, Dr. Martens is not actually led by medical doctors. Weighing in on controversial elective surgeries to promote one side of the transgender debate is not why the company was founded more than 75 years ago. Its purpose is to create quality shoes and boots -- and that's what it should focus on."
The designer of the "DIY Docs" is LGBT activist Jess Vosseteig who, alongside her political shoe designs, is known for her LGBT activism on Instagram, including her claim that "periods have no gender." Vosseteig said she created her art around the ideas of inclusivity and acceptance -- "to break gender stereotypes and push societal norms," as she put it.
In response to her call for inclusivity, Danhof commented, "When business leaders throw around the term 'inclusivity,' I don't think they know what the term means. Inclusivity does not mean promoting social causes that offend large swaths of their own consumer base, but that's what Dr. Martens and Costa Coffee appear to be doing."
Meanwhile, hoping to capitalize on the booming anti-woke market, NBA player Jonathan Isaac announced the launch of a new sports apparel brand focused on faith, family, and freedom. The title of his brand is "UNITUS," and as he shared with The Daily Wire, the brand was meant to be something bigger than himself. "So for that, I have to give glory and honor to Jesus Christ."
Isaac also spoke about how he wanted to "give people the freedom to buy with their values." He spoke about "true greatness" and how that cannot be defined by the world's standards. "We know that true greatness is found in none other than Jesus Christ," he said. "That is what makes us truly great, and so we can step into the world, as we are, with boldness and confidence, and say, 'I am truly great. I don't need to measure myself by world standards.' And that is what UNITUS is about."
---