China To Attack Taiwan In Next 17 Months: Official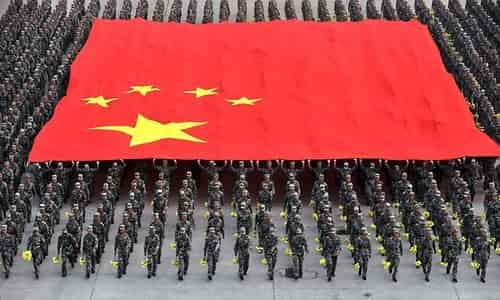 By Ben Johnson/The Washington Stand
July 14, 2023
Share this article:
---
The Biden administration's weakness and foreign policy miscalculations have convinced Taiwan that the U.S. military no longer has the resources to stop a Chinese invasion of the island, according to a member of the House Armed Services Committee. Recent U.S. "groveling" before the Chinese Communist Party (CCP) and the catastrophic withdrawal from Afghanistan may have convinced Beijing to launch a full-scale assault in the next 17 months, said the official, who just returned from Taiwan.
"We're three-and-a-half years behind in providing [the Taiwanese military with] the weapon systems that they've already paid for," Rep. Keith Self (R-Texas) told "Washington Watch with Tony Perkins" on Monday. Military goods already paid in full "simply haven't been provided to them."
The Biden administration's decision to leave Taiwan underprepared -- a possible violation of the 1979 Taiwan Relations Act -- could accelerate the CCP's decision to authorize a full-scale military invasion of Taiwan and consume the Pacific in war. "The executive branch is the one that executes wartime activities, and this administration has showed its weakness since the disastrous withdrawal from Afghanistan," Self said.
"I have talked to at least one senior member in Congress that says he believes that Communist China may make this effort during the Biden administration... that is something we need to at least plan for, be prepared for." Lt. Gen. (Ret.) Jerry Boykin, now executive vice president of the Family Research Council, predicted in March, "Before Joe Biden leaves office, Taiwan will be under attack by China."
In that timeline, China would initiate military hostilities before January 2025, a mere 17 months from now. Rather than talk tough, both Treasury Secretary Janet Yellen and Secretary of State Antony Blinken sank to "groveling in front of the Communist Chinese," said Self. Yellen bowed so much to her Chinese counterpart that she "looked like a bobble head," added Perkins.
The consequences of a Chinese invasion of Taiwan, which Beijing regards as a renegade province, are anything but humorous for the U.S. ally and the U.S. Pacific Fleet. A simulation conducted in April showed China able to overcome full-scale U.S. defensive actions and land an 80,000-man fighting force on Taiwan. The Chinese People's Liberation Army "just ran rings around us," noted Gen. John Hyten, a former vice chair of the Joint Chiefs of Staff. "They knew exactly what we were going to do before we did it."
Wargame scenarios alternate between U.S. victories and defeats, but all show significant casualties. They also saw America's supply of Long Range Anti-Ship Missiles and Joint Air-to-Surface Standoff Missiles, both of which take 20 months to make, depleted in about one week. Unless the Biden administration makes "major changes," it would "likely be too late for the defense industry to ramp up production if a war were to occur," wrote Seth Jones of the Center for Strategic and International Studies in January.
The degraded condition of the U.S. military and Biden's inability or refusal to provide Taiwan with the means to defend itself have forced Taiwanese leaders to concede their island will be breached, potentially necessitating a "Red Dawn" scenario to expel PLA troops. For the first time, Taiwan's annual air raid drill, which takes place July 26 to prepare for a Chinese assault, will include the island's main airport, Taoyuan International Airport.
Taiwanese President Tsai Ing-wen "strongly suggested that their new strategy of an interior homeland defense on the island, rather than defeating the invasion force in the strait, may stem from our inability to provide them those weapon systems," said Self, who just returned from a trip to Taiwan. "She strongly suggested that the two were tied together. They're falling back into a deeper defense on the island itself."
'We Running Out of Ammunition': Biden
Multiple analysts say the U.S. is unable to fill Taiwan's back order of munitions, because so many of those weapons have gone to fight Russia in Ukraine.
"The diversion of existing stocks of weapons and munitions to Ukraine and pandemic-related supply chain issues has exacerbated a sizeable backlog in the delivery of weapons already approved for sale to Taiwan, undermining the island's readiness," concluded a report to Congress from the U.S.-China Economic and Security Review Commission.
Senator Josh Hawley (R-Mo.) noted the U.S. backlog of weapons for Taiwan "reportedly includes Javelin anti-tank weapons and Stinger anti-aircraft missiles. These weapons are vital to an asymmetric defense of Taiwan, but they have yet to arrive in Taiwan, even as the Administration has sent thousands to Ukraine."
"We should be clear: Taiwan is more important for U.S. national interests than Ukraine," Senator Hawley wrote to Blinken last year. "Your administration is... prioritizing arms to Ukraine over our vital security interests in Asia."
President Biden's family stands credibly accused of receiving millions of dollars from Ukraine and China in a years-long influence-peddling scheme that remains under investigation.
Two-thirds of Americans grade Biden's handling of China a "C" or below, according to a poll from Tipp Insights.
"We have problems in our defense industrial base providing the numbers of equipment that we need and that all of our allies have already paid for," Self told Perkins. Meanwhile, there are "lots going to Ukraine."
Some fear U.S. military aid to Ukrainian President Volodomyr Zelensky may have imperiled America's own defense reserves. "We're running out of ammunition," Biden confessed, when asked why the U.S. will furnish cluster bombs to Ukraine. (White House officials later claimed the president meant to say Ukraine is running out of ammunition.)
"That's an issue that the Foreign Affairs Committee is looking at in some detail, because that is something that we could try to ameliorate and fix quickly," Self noted. "And I think that we probably should."
Chinese Communist Leaders Spend U.S. Money on Nuclear Missiles
The People's Liberation Army faces no such shortage. "The head of U.S. Strategic Command has informed us that China has surpassed the U.S. in the number of ICBM launchers," revealed Senator Roger Wicker (R-Miss.) and Rep. Mike Rogers (R-Ala.), who each leads his chamber's respective Armed Services Committee, in January. "This should serve as a wake-up call for the United States." Furthermore, the "CCP now controls the largest army and navy in the world" and has "doubled their number of warheads in just two years," Rogers added.
The People's Republic of China increased its military spending 723%, from an estimated $41.2 billion in 2000 to $298 billion in 2021. China also had the world's largest increase in nuclear warheads, adding 60 missiles in 2022. The CCP's nuclear arsenal stands at an estimated 410 nuclear warheads -- and could exceed 1,000 by 2030, Pentagon officials say. China has announced it plans to establish a joint military training facility in Cuba, where the PRC has reportedly maintained a spy base since 1992, according to a retired American military intelligence officer.
Much of that funding has come from the United States. "Since the Tiananmen Massacre in 1989 -- and for some even before -- far too many elite leaders of America's most profitable corporations and like-minded government enablers here and around the world have embraced and welcomed the Chinese Communist Party (CCP) with open arms" in the "false hope that robust trade would somehow help China matriculate from a dictatorship to a functioning democracy," said Rep. Chris Smith (R-N.J.) at a hearing on "Corporate Complicity: Subsidizing the PRC's Human Rights Violations" Tuesday morning.
"The pervasive use of government sanctioned genocide, torture, rape, forced abortion, involuntary sterilization, forced organ harvesting, human sex and labor trafficking, religious persecution, kangaroo courts, free speech and assembly violations, and other crimes against humanity attest to an absolutely shameful record of wanton cruelty."
Smith introduced the China Trade Relations Act of 2023 to repeal China's preferential trade relationship until it improves its human rights record.
Yet at present, China appears to benefit from its aggressive policies, while Biden's weakness threatens to "bolster other tyrants around the world and bring about greater instability than we already have," said Perkins.
---