USAID To Coerce Governments Worldwide To Promote LGBT Doctrine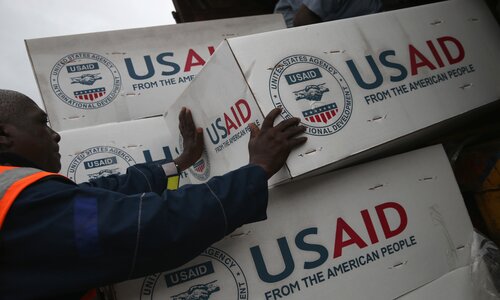 By Alaina Cothran/The Washington Stand
May 24, 2023
Share this article:
---
United States Agency for International Development (USAID) recently released a new draft "LGBTQI+ Inclusive Development Policy" aimed at "championing LGBTQI+ inclusive development and the human rights of LGBTQI+ people as part of a coordinated, whole-of-U.S. government effort with our partners on the ground." If enacted, the policy would be the first of its kind for USAID.
Family Research Council submitted a public comment addressing several concerns during a short window when the draft policy was open for public comment until May 11, 2023. Among FRC's concerns is that it is fundamentally "inappropriate, counter-productive, and coercive" to "implement programs ultimately designed to change the mores and cultures of other countries."
The United States gives more foreign assistance than any country in the world, and USAID has a powerful position as the government agency primarily responsible for administering civilian foreign aid and assistance. USAID's mission is a noble one -- it is intended to "save lives, reduce poverty, strengthen democratic governance, and help people emerge from humanitarian crises and progress beyond assistance." FRC expressed concern that "it simply does not fall within the mission of USAID to 'affirm and celebrate' sexual orientation or gender identity," quoting from the opening lines of the draft policy.
Rather, "the agency should remain committed to supporting American foreign policy, international development, and disaster assistance," all of which can be accomplished without creating this new LGBT-focused policy. FRC's comment noted that the draft policy's goals further represent "mission creep" because "it is beyond the scope of USAID's legitimate mandate to foster working relationships with LGBTQI+ organizations and activists in order to 'keep pace with dynamic, vibrant, and growing international LGBTQI+ movements.'"
Allocating resources in pursuit of implementing radical gender ideology abroad is not in the interests of the American people or those of the receiving countries. FRC's comment pointed out that often, "foreign leaders and citizens in the countries receiving U.S. foreign assistance regard efforts to change their domestic laws and culture about marriage and human sexuality to be condescending." With so many legitimate needs around the world to be addressed, U.S. assistance funds would be more wisely apportioned elsewhere.
The very premise of the policy is to inflict this extremely "Western, post-modern perspective that ignores biological sex and underestimates the purpose and significance of families and familial ties" throughout the countries in which this proposal will take effect. FRC's comment concluded with a much-needed reminder about the purpose of USAID and the foundations of the international human rights project:
"It will harm U.S. relations with other countries and apply heavy-handed, coercive pressure on foreign countries to change their laws, policies, and culture. In all, it simply fails to forward the mission and purpose of USAID.
"Unfortunately, this draft misunderstands the implications of Article 1 of the Universal Declaration of Human Rights, which states, 'All human beings are born free and equal in dignity and rights.' It is precisely because all humans inherently have equal dignity and worth rooted in humanity's possession of reason and conscience (not rooted in sexual orientation or gender identity) that we do not need a policy emphasizing LGBTQI+ inclusive development. Such individuals should be and are already served by USAID programs."
Recently, USAID released a new "Gender Equality and Women's Empowerment Policy," which was also infused with a harmful gender ideology which undermined the policy's purported goal of uplifting women and girls across the globe. The policy also stated that "family planning and reproductive health services" (code for abortion) was an essential part of the Gender Equality and Women's Empowerment Policy under President Biden.
The draft of Biden administration's new "LGBTQI+ Inclusive Development Policy" is yet another example of how President Biden is using taxpayer money to push a radical agenda abroad that many Americans oppose. This draft policy would be bad for American taxpayers, bad for recipient countries that do not want President Biden's ideological colonialism, and would fail to accomplish the mission of USAID. The Biden administration should reverse course and refrain from enacting the policy.
---