Traditional Family TV Labelled Discriminatory For Not Pushing Queer Christmas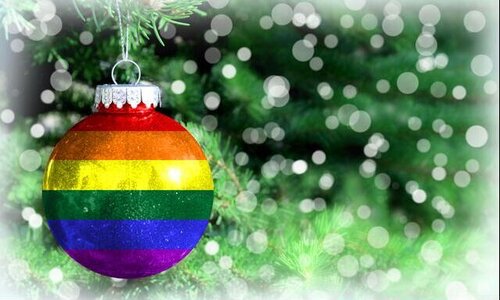 By Jonathon Van Maren/Bridgehead.ca
November 22, 2022
Share this article:
---
After making twenty films with the Hallmark Channel, known for its kitschy, cookie cutter romance stories, conservative actress Candace Cameron Bure recently joined the Great American Family as chief creative officer., a cable TV network specializing in what it calls family-oriented entertainment.
Like virtually every other American entertainment enterprise, the Hallmark Channel recently made the pivot to LGBT content, featuring a "queer character" in their 2020 seasonal film The Christmas House (a couple, Brandon and Jake, discussing adopting a child), and on December 11 will be releasing The Holiday Sitter, a "gay romance" in which a bachelor babysitting his niece falls for the neighbor man.
This move is unsurprising to anyone following our cultural shift--once the term "family" was redefined, it was clear that "family-friendly" would also mean something very different very quickly. What followed, too, has been predictable--the public pillorying of anyone who questions this new version of "family-friendly" and the arrival of queer Christmas films.
Candace Cameron Bure found this out the hard way when, in a recent Wall Street Journal interview, she stated that the Great American Family would be avoiding such storylines: "I think the Great American Family will keep traditional marriage at the core," she said. The reaction was immediate.
Actress Jojo Siwa stated that focusing on the "traditional family" was active discrimination. "Honestly, I can't believe...she would not only create a movie with the intention of excluding LGBTQIA+, but then also talk about it in the press," she wrote on Instagram. "This is rude and hurtful to a whole community of people." The post was swiftly packed with positive comments and affirmation.
Hallmark star Holly Robinson Peete responded: "Go make the content that you want to make but why insist on castigating others? It's the judgment for me,. As a proud mom of an LGBTQIA person, the traditional marriage quote stung. Proud to be on Hallmark channel which understands the importance of diversity and inclusion of EVERYONE."
None, incidentally, explained how stating that keeping "traditional marriage at the core" was "castigating people" or being "rude and hurtful." Hallmark star Hilarie Burton Morgan, however, objected to the idea that queer storylines weren't...traditional. "There is nothing untraditional about same-sex couples," she tweeted. GLAAD president Sarah Kate Ellis concurred: "It's irresponsible and hurtful for Candace Cameron Bure to use tradition as a guise for exclusion. I'd love to have a conversation with Bure about my wife, our kids, and our family's traditions."
Fire Island star Matt Rodgers took an even harder line: "I've come to expect very little from Candace Cameron Bure, so what I'm doing with Candace Cameron Bure and a lot of other big stars of the past is I'm paying them absolute f--in' dust. I think as long as these people are out there, and they're still espousing their same bulls--, just ignore them, 'cause they'll hate that more than anything else."
Bure, who clearly did not anticipate the backlash, issued a plea for understanding. "All of you who know me, know beyond question that I have great love and affection for all people. It absolutely breaks my heart that anyone would ever think I intentionally would want to offend and hurt anyone," she responded.
"I am a devoted Christian. Which means that I believe that every human being bears the image of God. Because of that, I am called to love all people, and I do. ... My heart yearns to build bridges and bring people one step closer to God, to love others well, and to simply be a reflection of God's huge love for all of us."
"To the members of the media responsible for using this opportunity to fan flames of conflict and hate, I have a simple message: I love you anyway," she went on. "To those who hate what I value and who are attacking me online: I love you. To those who have tried to assassinate my character: I love you. To everyone reading this, of any race, creed, sexuality, or political party, including those who have tried to bully me with name-calling, I love you."
None of that, of course, will do any good. Bure's detractors aren't interested in hearing why she believes what she believes. They are interested in forcing her to change her views. GLAAD's Sarah Kate Ellis observed that Bure is "out of sync with a growing majority of people of faith, including LGBTQ people of faith, who know that LGBTQ couples and families are deserving of love and visibility...If GAF's plan is to intentionally exclude stories about LGBTQ couples, then actors, advertisers, cable and streaming platforms, and production companies should take note and seriously consider whether they want to be associated with a network that holds exclusion as one of its values."
And so it begins. The Great American Family will, like every other company seeking to produce stories for public consumption, be forced to make a choice. If they decline to participate in the normalization of lifestyles they believe violate the principles of Christianity, then the LGBT movement will summon the gods of the marketplace to make them pay.
Most companies have decided to bend the knee. We will see if the Great American Family follows suit.
---