Could The Asbury University Revival Save America?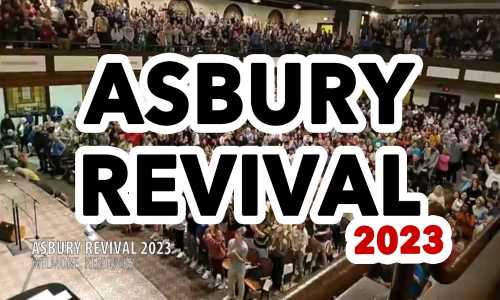 By Michael Snyder/End Of The American Dream
February 18, 2023
Share this article:
---
Are we actually witnessing a full-blown revival right here in the United States?
For more than a week, there has been a non-stop prayer and worship awakening happening at Asbury University in Kentucky. Day and night, thousands of young people are gathered in the chapel to worship God, repent of their sins and read from the Bible.
We haven't seen anything like this in a long time, and videos from the awakening are being viewed on social media by millions of people all over the world. Amazingly, at this point these gatherings have created so much buzz that even the mainstream media is being forced to acknowledge what is going on. For example, the following comes from an NBC News report...
The growing event started as a routine chapel service at Asbury University, a small Christian college in Wilmore, Kentucky, according to university employees. At the tail-end of the meeting, a couple dozen lingering students assembled informally in a gathering that's been going now for seven days straight, 24 hours a day.
"The first day we had a very ordinary service, I would call it unremarkable," said university President Dr. Kevin Brown. Following a morning service on Feb. 8, a multicultural gospel choir sang on stage. Some students stuck around afterward, and by evening more and more had trickled into the sanctuary creating something special, said Brown.
Within just a few days, news of the gatherings started spreading like wildfire on social media, and people started driving to Asbury from all over the country.
According to Charisma News, the line to get into the meetings is now "nearly a half mile long"...
The revival at Asbury University is now in its 10th day as thousands of people continue to make the spiritual pilgrimage to this town in hopes of encountering more of God.
The revival is now officially in overflow mode with the line of people to get inside stretching nearly a half mile long.
Thankfully, so far the people at Asbury have not allowed outsiders to come in and take control.
Instead, what is taking place appears to be quite "raw" and quite authentic. Nick Hall's account of what he experienced when he visited Asbury was published by Fox News...
In an age of sensationalized encounters, what's happening at the Hughes Auditorium is incredibly simple, humble, and ordinary.
There isn't a single 'known' figure on the platform. It's students leading the way alongside a few campus ministers. It's raw worship, Bible reading and exhortation, and repentance.
Confession broke out numerous times, the crowd would listen and speak out, "The blood of Jesus forgives me." The altars were full night and day, wet with tears, from young and old. It was multi-ethnic, multi-racial, and multi-generational.
What a wonderful thing.
In addition to the thousands that get to be there in person, tens of millions have tuned in to watch the gatherings in Asbury on social media...
On TikTok and Instagram, videos hashtagged "Asbury Revival" are racking up millions of views. At the time this article was published, the hashtag #asburyrevival had 24.4 million views on TikTok.
And it appears that the movement is spreading.
At this point, similar gatherings have erupted at several other Christian universities...
Just 249 miles to the south, a revival at Lee University in Cleveland, Tennessee is well underway. Local news reports indicate the Lee revival has now been ongoing since Monday.
There are also reports of spontaneous prayer and worship among the students at Cedarville University in Cedarville, Ohio, and at Samford University in Birmingham, Alabama.
In addition, it is being reported on Fox News that thousands of students have been giving their lives to Christ at major universities all over the nation...
We saw over 2,000 students repent of sin and turn to Jesus last week through events at the University of Georgia, Minnesota, Texas Tech, Wisconsin, Iowa State, and North Dakota State.
I've been doing evangelism for 20 years. I was trained by and traveled with both Billy Graham and Luis Palau. These are the highest percentage of responses to the healing, redeeming message of Jesus that I've ever seen. Could this be a revival?
So will this last?
Time will tell whether this movement can be sustained or not.
But for now, let's enjoy the authenticity and the purity of these gatherings while we still can...
The last great spiritual awakening happened with young people back in 1970. It was called the "Jesus Movement." In a time not unlike our own, God worked a miracle in American history.
There were riots in the streets, racial tension, the fear of nuclear war in the air, and what appeared to be the unraveling of our nation. There was talk of "revolution," and one actually took place. But it was not a political revolution or a moral revolution--it was what TIME Magazine called a "Jesus Revolution."
It changed the nation and the world.
A new movie telling the story of that last great spiritual awakening in America opens nationwide in over 2,000 theaters on February 24. This film follows two unlikely people coming together--a staid pastor, Chuck Smith and a young hippy evangelist, Lonnie Frisbee.
As people see this film about the most profound spiritual awakening of our day, we hope and pray for God to do it again. The Psalmist wrote, "Will You not revive us again that Your people may rejoice in You?" (Psalm 85:6, NKJV).
In light of current events, the timing of this film seems providential.
Watch the trailer below:
---