First They Came For The Cows, Ireland Looks To Kill 200,000 For Climate Goals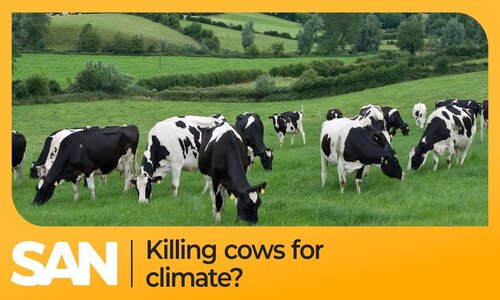 By PNW Staff
June 08, 2023
Share this article:
---
Livestock production -- primarily cows -- has apparently become such a problem for the climate that government officials in Ireland are mulling over a plan to kill hundreds of thousands of cows.
The Irish Mirror said a new Department of Agriculture report shows officials planned to kill 200,000 dairy cows over the next three years to combat climate change.
We told readers in late 2022, "Forget Oil. Now They Are Coming For The Cows." And that's apparently what the climate alarmists in Ireland are preparing to do.
Ag website Farming Independent said it recently obtained the report via a freedom of information request.
"Cuts to the dairy herd of 65,000 cows per year for the next three years will be needed to meet agriculture's climate targets Department of Ag officals have estimated in an internal briefing paper seen by the Farming Independent," the website said.
Meanwhile European climate activists are planning 'large-scale civil disobedience campaigns' of highway blockages, hunger strikes and disruption at 'federal properties' in the US this August.
Leaders from Extinction Rebellion (XR) and other European groups known for their large-scale disturbances are rapidly expanding their US-based franchise, Declare Emergency, to create mayhem this Summer.
The Europeans are teaching their US allies how to raise money, boost membership and recruit scores of 'arrestable' members to spearhead the most aggressive protests.
In Europe, those groups have assembled tens of thousands of protestors and brought cities to a standstill, causing millions of dollars of losses, but it remains unclear if they can replicate that success in the US.
There is already talk of how groups such as BLM and Antifa could join forces with climate activists for maximum impact.
Expect a long hot summer of protests but how big and successful they will be remains to be seen.
---