World Council of Churches Trains 2,000 Anti-Israel Activists, Funded By UNICEF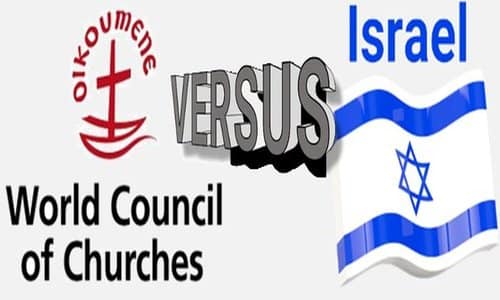 By JNS.org
January 23, 2019
Share this article:
---
The World Council of Churches (WCC) has sent nearly 2,000 participants to Israel, and Judea and Samaria, since 2002 to train them in anti-Israel narratives and assign them to communities worldwide, according to a report from NGO Monitor.
With no similar program in other conflict zones, the WCC's Ecumenical Accompaniment Program in Palestine and Israel (EAPPI) consists of activists being sent to "witness life under occupation."
"EAPPI misuse tourist visas to enter Israel, where the group has no legal status," according to NGO Monitor. "They are hosted in Jerusalem by a WCC affiliate, the Jerusalem Interchurch Center (JIC). Notably, the head of JIC, Yusuf Dahar, is one of the authors of the Kairos Palestine Document, which legitimizes terror, embraces anti-Jewish theology and rejects Jewish history. Similar views have been expressed by a number of WCC officials."
The NGO Monitor report also stated that EAPPI has been funded by UNICEF and countries such as the United Kingdom, Germany, Ireland, Switzerland, Finland, Denmark, Canada and Japan.
Norway contributed nearly $2 million between 2017 to 2019, while Sweden gave $500,000 between 2017 and 2018.
"We are sharing our research with the public and decision-makers as part of an informed discussion on EAPPI's agenda and funding. The research highlights EAPPI's radical agenda, which, rather than advancing or defending human rights, is a platform for conflict and anti-Semitism," said NGO Monitor founder and president Gerald Steinberg. "We have received numerous inquiries from Christian and Jewish groups calling attention to the central role played by EAPPI alumni in leading BDS and other delegitimization campaigns."
The World Council of Churches has previously declared its support for the Palestinian campaign against Israeli control of Jerusalem's holy sites, describing Israeli security measures at the Temple Mount as a "corrosive act in the midst of an already-fragile peace."
The WCC's attitude to Israel has been consistently hostile for several decades. The organization has a deliberately vague policy towards the BDS campaign targeting Israel, saying it does not support a boycott, but endorsing at the same time "all non-violent efforts to end the occupation (including considering appropriate economic and other measures)."
The WCC is a central promoter of the Christian "Kairos Palestine" document, which characterizes terrorist acts of "armed resistance" as "Palestinian legal resistance," denies the Jewish historical connection to Israel in theological terms, calls to mobilize churches worldwide in the call for BDS, and compares Israel with the South African apartheid regime.
According to the Israeli research institute NGO Monitor, the WCC directly funds groups in its "Israel/Palestine" network that promote BDS and "lawfare" campaigns to convict Israeli political and military leaders for alleged "war crimes."
Originally published at
JNS.org
- reposted with permission
---