Will President Trump Bring Peace to Israel?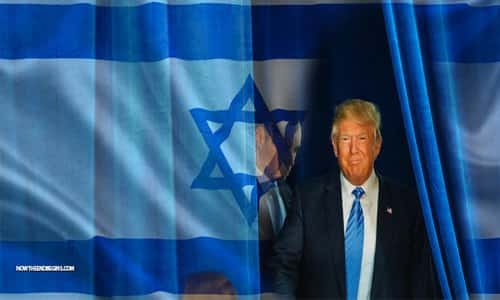 By J.L. Robb
May 19, 2017
Share this article:
---
"Over the course of my lifetime, I've always heard that perhaps the toughest deal to make is the deal between the Israelis and the Palestinians. Let's see if we can prove them wrong." - President Donald J. Trump
After a busy first 100 Days in office, Donald Trump prepares to exit the current political chaos in Washington, DC and embark on his first foreign trip as president
.
The first president since Carter to not make his first trip to Mexico or Canada, the journey will include visits to the Vatican, Israel, and Saudi Arabia, stops that his top aides hope will both combat views of the President abroad and build toward Middle East peace.
In an interview with The Algemeiner, Daniel Mariaschin confirms that Trump's itinerary "shows the interest that the administration has in cultivating and building the relationship with Israel as an ally."
However, while Trump will meet with Pope Francis at the Vatican during his trip, National Security Adviser H.R. McMaster confirmed that "no Israeli leaders" would accompany Trump on his visit to the Western Wall in the Jewish Quarter of Jerusalem's Old City.
According to Mariaschin, Netanyahu's absence would be all the more significant given that Trump's overseas journey -- to Saudi Arabia, Israel and the Vatican -- is meant to consciously embrace the three Abrahamic faiths.
Like other U.S. Presidents before him, the quest for peace in Israel has been somewhat elusive.
Their peace treaties have a history of Israeli tolerance toward multiple incursions and rocket attacks from Palestinians. The descendants of Ishmael and the descendants of Isaac have been fighting for a long time.
Trump's influence on foreign affairs from the White House is proven by the most recent visit of Palestinian President Mahmoud Abbas, in addition to the invitations from the King of Saudi Araibia, President & Prime Minister of Israel, and the President of the Palestinian Authority that got this trip started.
However, if President Trump intends to make a genuine peace deal between the Israelis and Palestinians, a deal with no incursions, no rocket attacks, no driving-into-Jews attacks and no stabbings, he has his work cut out for him.
While Donald Trump was running, he campaigned that he would move the recognized capital of Israel to Jerusalem.
But just in time for his visit, Jordan, Egypt and the Palestinian Authority have declared eastern Jerusalem as the "capital of Palestine"
Bayit Yehudi Leader Naftali Bennett declares that "any agreement based on the division of Jerusalem is destined to fail."
These Arab officials also insisted the Israeli-Palestinian conflict is the root of all tension in the Middle East, and that a two-state solution would remedy regional conflicts and promote stability.
Critics of a two-state solution based on the pre-1967 lines say those borders would be indefensible for Israel.
Safadi said that the issue of Jerusalem should be treated with caution. "Everyone is convinced that the president of the United States wants to act effectively for peace. The three of us felt a genuine commitment by Trump to resolve the conflict. "
President Trump has a way of keeping it interesting; during the coming days of his travels we can prepare to turn our eyes to the Middle East for U.S involvement in foreign affairs with Trump pushing the "ultimate deal" - a peace treaty between Israel and the Palestinians.
Many Christians believe that a peace treaty could open doors to many things talked about in The Book of Revelation. J. L. Robb has written a series of seven books correlating to these topics.
Fictional accounts of Middle East scenarios and action in Revelation that could play out in our lifetime. To learn more about this series you can
click here
or follow JL on Facebook
here
.
---